The luxurious Regent Hong Kong makes its spectacular debut on Wednesday November 8 after a remarkable transformation from the former InterContinental Hong Kong.
The 'new' Regent Hong Kong is a flagship for IHG's reimagined luxury brand and the transformation in Hong Kong has been nothing short of spectacular.
According to General Manager Michel Chertouh, the Regent Hong Kong offers a harmonious blend of tranquillity and excitement creating an atmosphere where senses are heightened and memorable experiences are born.
"As one of Hong Kong's legacy luxury hotels and host to generations of cherished memories, we are proud to officially launch Regent Hong Kong and ignite a new chapter of unforgettable moments for our guests," he said.
"Regent Hong Kong offers a rare urban haven on Victoria Harbour, elevated above the city's hustle and bustle.
"We have created a serene environment where you can disconnect from the outside world and enjoy bespoke service 'on your terms."
Chertouh said Regent Hong Kong stands as the quintessential base for an exploration of Hong Kong's myriad of attractions.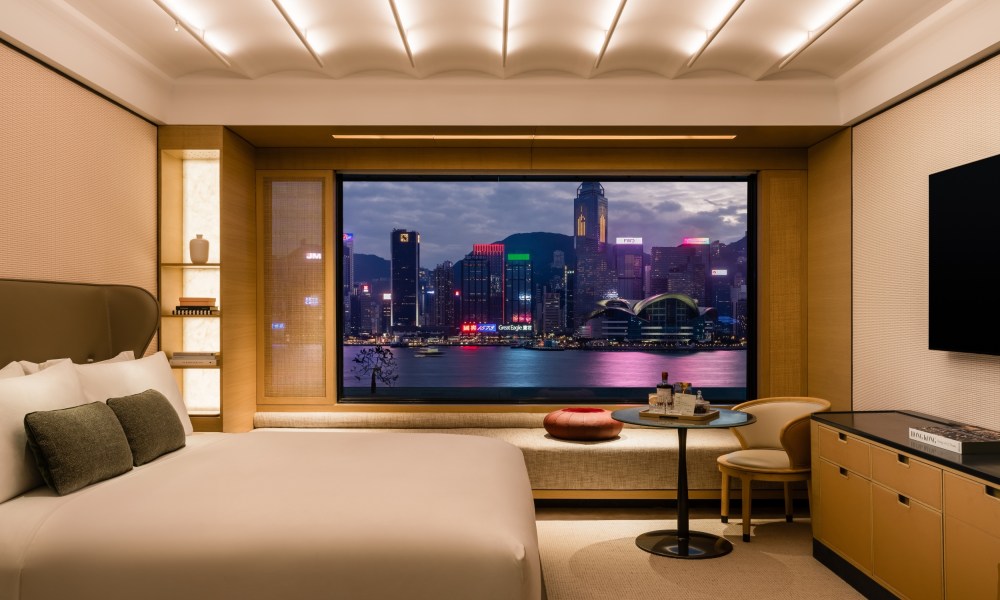 "Its privileged location on the striking Victoria Harbour places guests at the epicentre of culture, surrounded by landmarks like K11 MUSEA, 'Avenue of Stars,' Art Square and the Hong Kong Museum of Art," he said.
Hong Kong-born designer Chi Wing Lo is a visionary creative who has brought a modern and understated touch to what is his first hotel project.
Through his expertise in architecture, interior design, furniture and art curation, Lo has created a timeless aesthetic, blending artisan craftsmanship with a subtle yet sublime sensibility.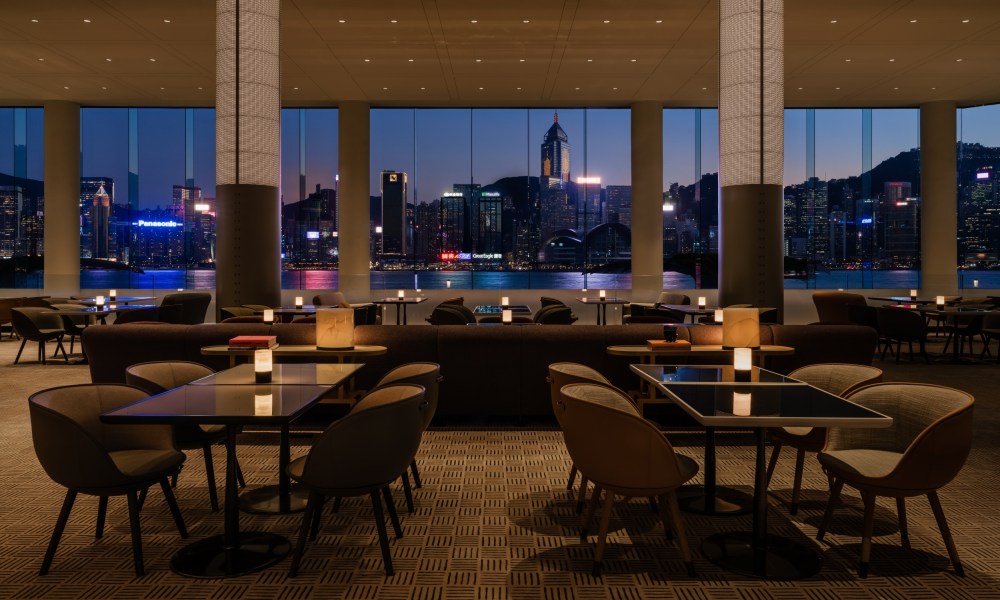 He is known for his considered meticulous approach, balancing tactile natural materials including natural oak and granite crafted by the most skilled artisans. Lo's philosophy comes alive with a serene rhythm and an element of surprise through refined juxtapositions.
By blending serenity and stimulation, Lo has curated serene and uncluttered spaces that contrast with stimulating framed views across Victoria Harbour. At the heart of the Regent experience and firmly rooted in Lo's scheme are also "Personal Havens," personalised spaces scattered around the hotel designed to inspire indulgent, intimate moments.
"As we open the doors to Regent Hong Kong, we celebrate not only a new chapter for the brand but also a journey back to the roots of luxury hospitality," said IHG Hotels and Resorts' Vice President Global Luxury and Lifestyle Brands, Tom Rowntree.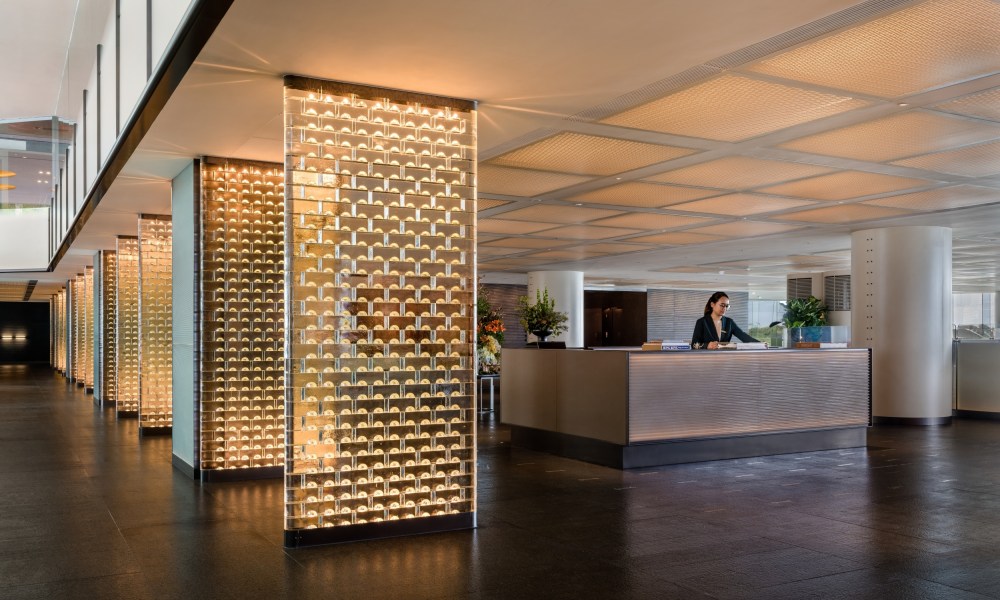 "Over half a century ago, Regent Hotels and Resorts pioneered modern luxury, setting the industry's ultimate standards that continue to influence luxury brands today.
"With a legacy steeped in innovation, breathtaking views and landmark destinations like Regent Hong Kong, the brand is returning in earnest to redefine luxury once more."
Chertouh said within the welcoming confines of Regent Hong Kong, a sanctuary of peace awaits in any of its 497 guestrooms, which include 129 suites.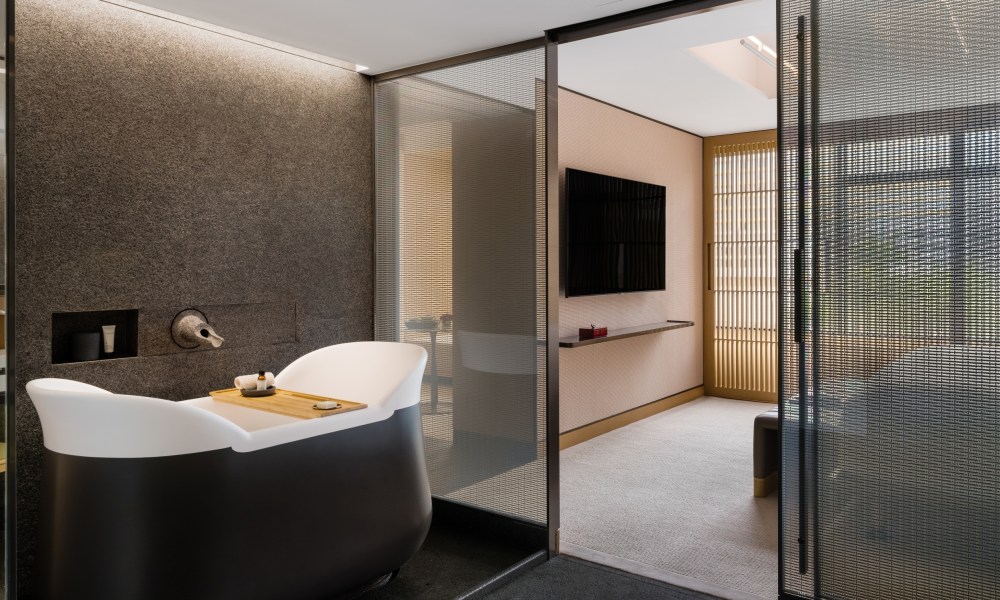 "Guests can relax in their Personal Haven in the cocooning comfort of a windowfront daybed while sipping oolong tea or unwind as the day's stress melts away in the oasis-like bathroom with a soothing bath selection from a bar and bath menu – all while enjoying the framed views of Victoria Harbour and Hong Kong Island's dramatic skyline," he said.
"Those seeking unparalleled luxury and the ultimate Personal Haven will discover the pinnacle in Regent Hong Kong's stunning new Presidential Suite, a sleek and sophisticated 3,500 square-foot duplex with a private terrace and infinity swimming pool, all with sweeping views of the harbour."
On the bar and restaurant front, Regent Hong Kong's dining scene is a trove of six globally acclaimed culinary experiences.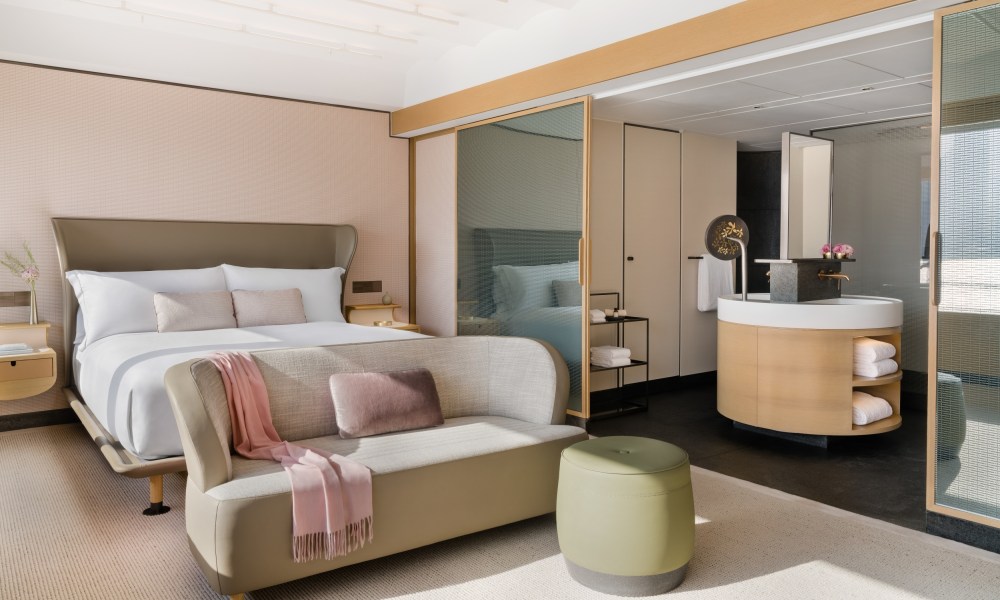 "It's not just about exceptional cuisine… it's about blending emerging culinary talent with local flavours and cultural encounters," Chertouh said.
"Guests are able to explore Cantonese gems at the two Michelin-starred Lai Ching Heen or savour the finest beef and wine at The Steak House.
"Harbourside offers lavish international buffets in a lively market atmosphere, while The Lobby Lounge is a cinematic spot for afternoon tea and cocktails.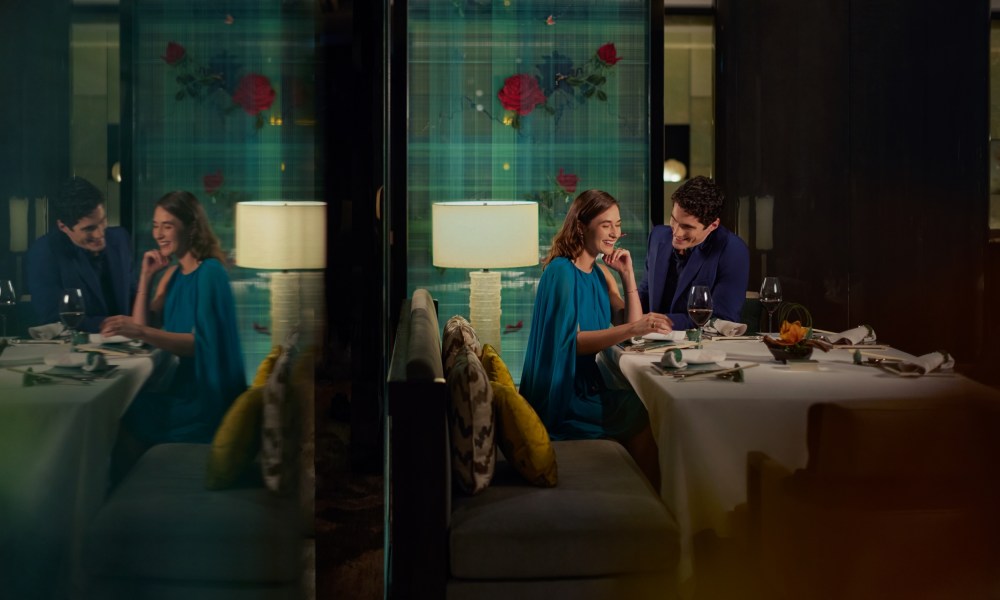 "Nobu brings back its iconic Japanese cuisine, and Qura, the hotel's chic bar, adds a dynamic touch, where like-minded guests gather for bespoke drinks, engaging conversations and elevated comfort food with mesmerizing harbour views and a fine selection of cigars in the humidor room."
He said Regent Hong Kong, renowned for hosting prestigious events, will once again be the city's hub for grand occasions. The grand entrance with a cascading fountain and iconic marble staircase sets the stage.
The pillarless Regent Ballroom can host up to 1,000 guests, while ten versatile function venues offer flexibility and panoramic harbour views, all complemented by the intuitive service of Regent Masters.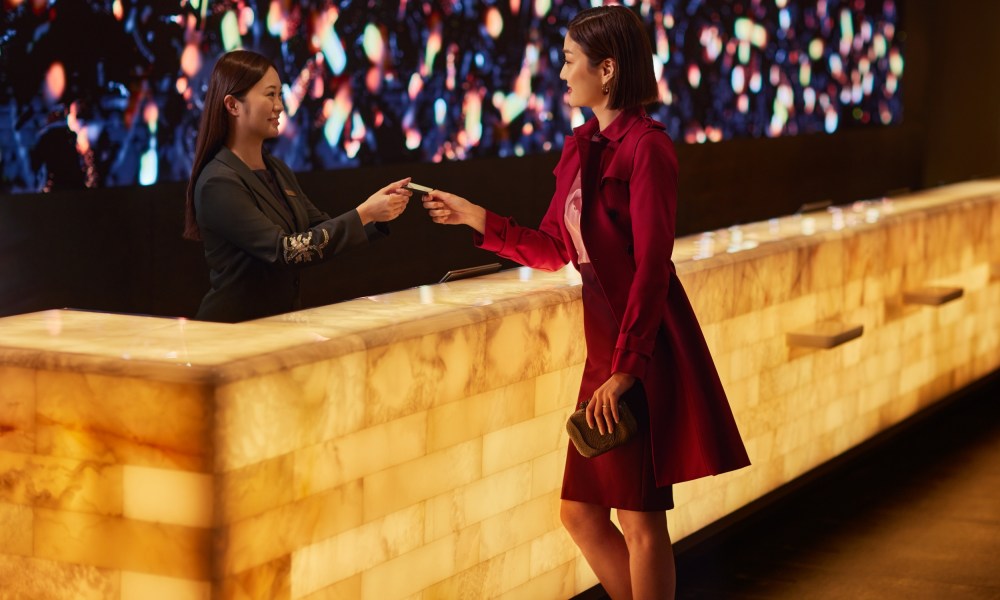 Impressively, Regent Hong Kong offers a highly personalised approach to service with Regent Experience Agents ensuring that each guest's experience is effortless and tailored to their occasion or desire from pre-arrival through to departure.
From dietary requirements to family excursions, the Regent Experience Agents are a single point of contact curating the experience to ensure it is truly a seamless and exceptional.
"The beauty of Regent service lies in its commitment to generosity, with thoughtful inclusions like select mini-bar items and laundry services all offered on a complimentary basis," Chertouh said.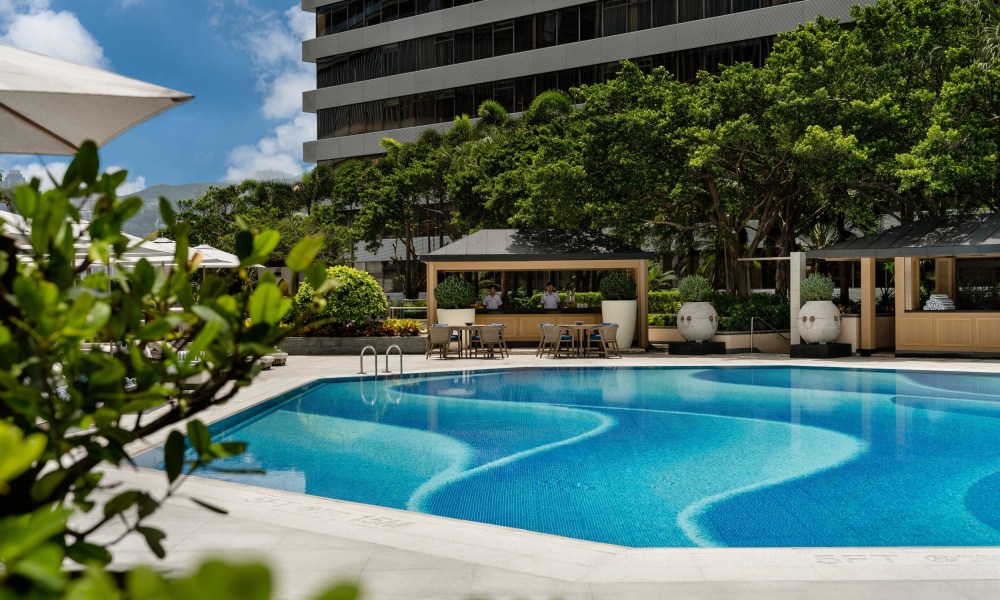 With Compliments is a brand hallmark for Regent Hotels and Resorts around the world.
Then there is the Regent Club, where guests will experience an exclusive sanctuary and luxury residential retreat where they can unwind, recharge and indulge in culinary, beverage and wellness offerings.
"This beautifully designed space on the second floor is brought to life through moments of decadence that punctuate each day," Chertouh said.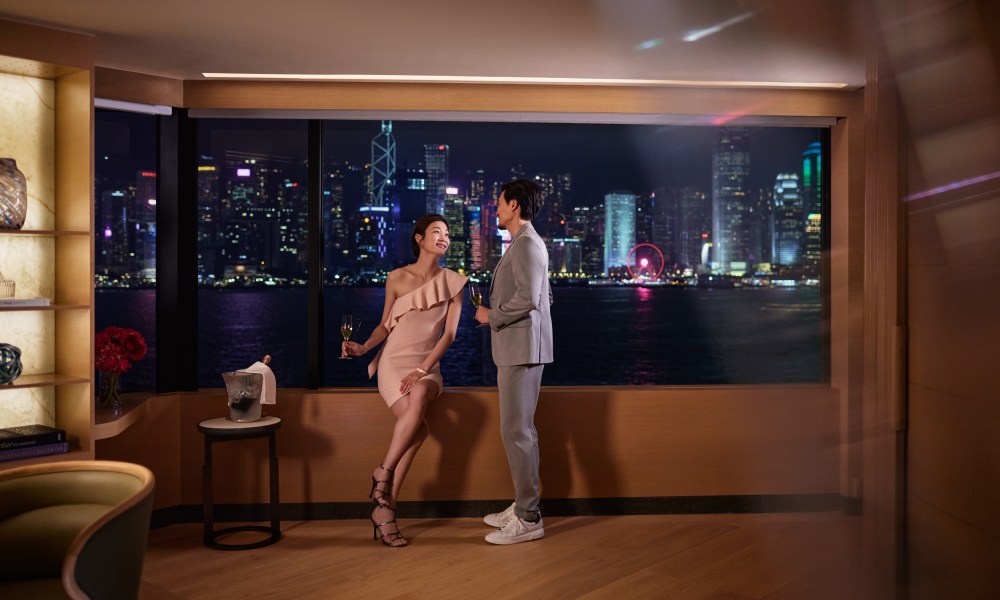 For those seeking balance, the Pool Terrace and Fitness Centre at Regent Hong Kong are also now open. Guests can enjoy a refreshing swim in the large outdoor pool, a dip in the three-temperature infinity pools overlooking the harbour, or an invigorating workout with the latest Technogym equipment in the Fitness Centre which is open 24-hours.
IHG Hotels and Resorts acquired Regent in 2018 and has since been working to reimagine the brand.
Regent Hong Kong is a flagship property within the new Regent portfolio and it joins Carlton Cannes, a Regent Hotel, Regent Chongqing, Regent Shanghai Pudong, Regent Phu Quoc, and the soon-to-open Regent Santa Monica Beach in crafting the most refined experiences for modern trendsetters. This Hong Kong opening is set to be closely followed by Regent Shanghai On The Bund in late 2023 and Regent Bali Canggu in 2024.
Getting to Hong Kong
Qantas operates direct flights to Hong Kong from Melbourne and Sydney with Airbus A330s and Airbus A380s that feature the airline's suite-style Business Class cabin.
Qantas' Business Class cabin is headlined by a 'suite' seat – available on all the Boeing 787-9, Airbus A330-200 and Airbus A330-300 jets in the fleet and select Airbus A380-800s – that has been popular with executive and leisure travellers since it first arrived on the scene in 2016.
This next-generation Business Class seat from the Flying Kangaroo can be reclined for take-off and landing, and the cabin offering also includes top Australian food and wine and world-class entertainment.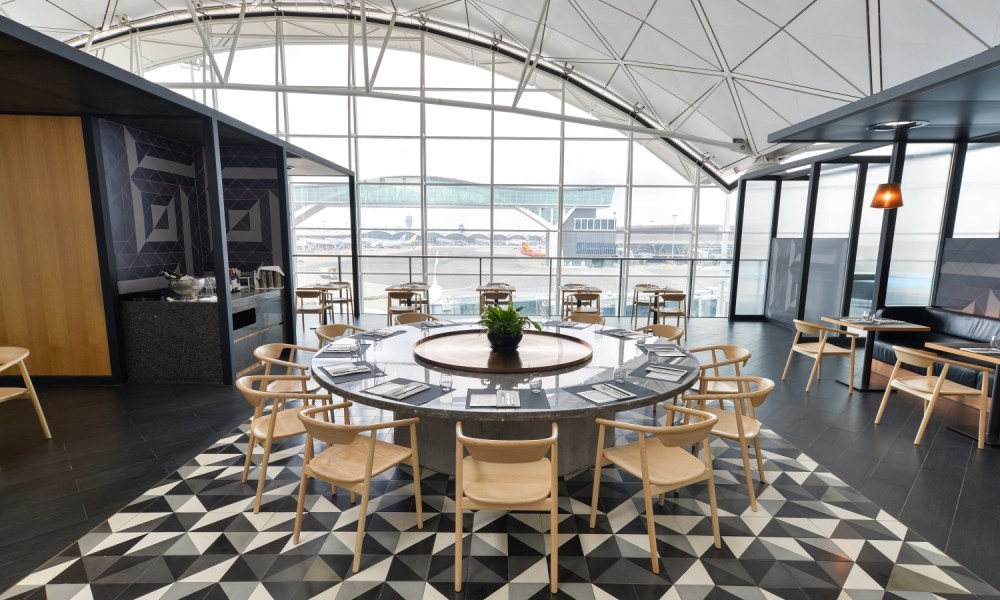 Before you depart Hong Kong, be sure to stop by the Qantas Hong Kong International Lounge, which recently re-opened to much fanfare in Asia's World City.
Originally opened in 2014 and one of the most popular lounges in the Qantas network since, the Qantas Hong Kong International Lounge was closed and vacated during the pandemic before recently undergoing a refresh as part of the carrier's AU$100 million global investment.
Thanks to Qantas' investment into the lounge, it's no surprise the space has been popular with both Qantas and Oneworld travellers alike. The Hong Kong International Lounge is spacious, stylish, there is fantastic hospitality and the food is exceptional.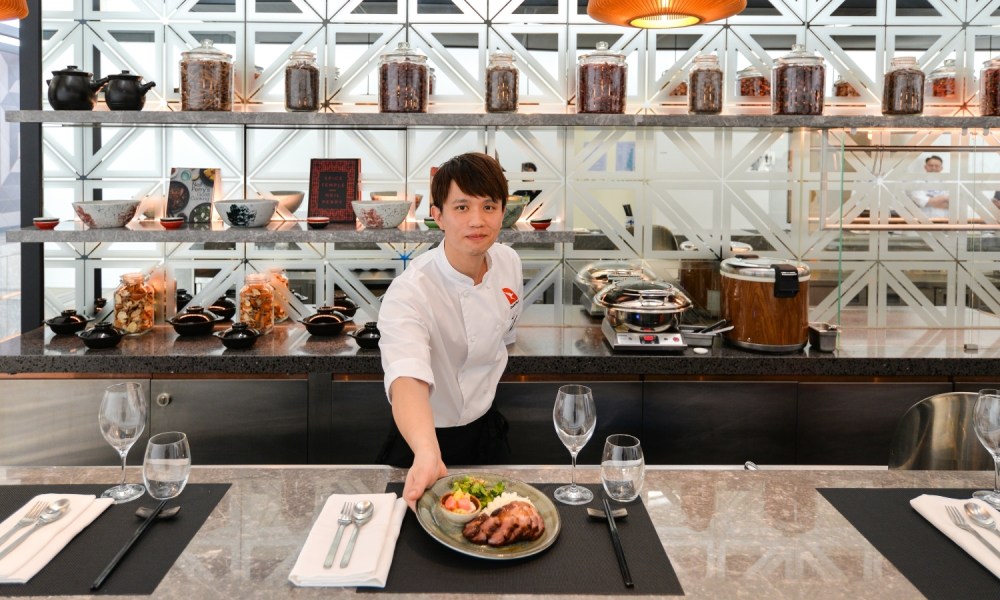 The improved 2,000sqm lounge features an updated warmer colour palette and new furnishings by Australian designer David Caon, with a seating capacity for 290 customers overlooking panoramic views of Hong Kong's famous Sky Bridge.
The original design of the lounge has been retained and finishes such as tiling and screens have been refreshed to create different zones within the lounge and a sense of privacy for customers – so much so you could have an entire area for yourself or your family without being bothered by anyone.
When it comes to the cuisine and wine, Qantas has done a brilliant job with the Hong Kong International Lounge and that's thanks to one of the best in the business.
Legendary Rockpool founder and Qantas Creative Director of Food, Beverage and Service, Neil Perry, has designed a menu of local dishes inspired by regional flavours and ingredients and said there was one key element from the previous offering that had to be included.
"Our customers absolutely loved the Yum Cha trolley so we are pleased to confirm we have fired up the dim sum steamers for its comeback, and will bring back the much loved char siu Chinese barbeque pork dish," he said.
The bar space is ideal for a full meal, or for independent travellers looking for a space to mingle or chat with the staff over a cocktail.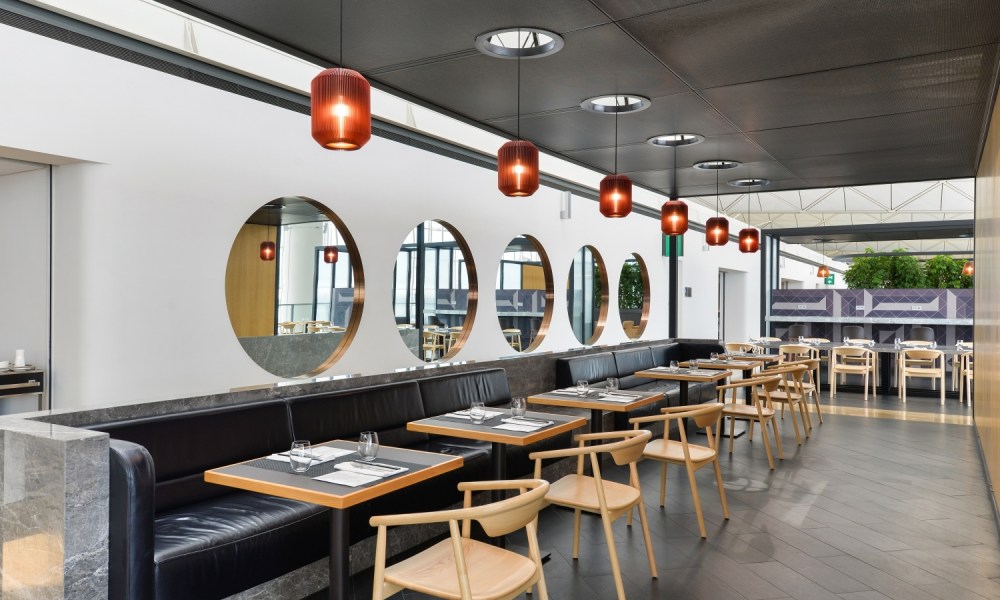 Qantas' Quench hydration station is also on offer with hot and cold beverages which support wellness while travelling, particularly on the tea front.
Customers have the flexibility to dine in the formal, spacious dining area, which features a communal table, or in the relaxed lounge seating area.
With Qantas' flights scheduled overnight between Hong Kong and Australia, corporate travellers can catch up on emails in the business zone, which is fitted with generous power and data outlets as well as high speed WiFi.
Those wanting to relax will be able to freshen up before their flight in the 12 luxury private shower suites featuring Li'Tya amenities.