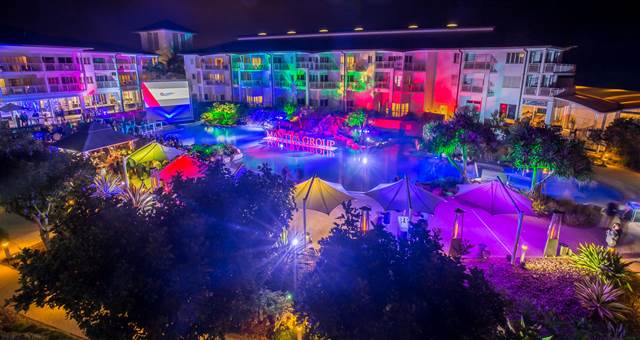 Mantra Group, managers and operators of the Peppers, Mantra and Breakfree brands, held their annual conference at Mantra on Salt Beach at Kingscliff last week.
With over 250 top tier staff to entertain, educate and feed, event producers Dreamweavers  in partnership with Mantra's in-house team, did an exceptional job of pulling together a highly engaging program.
Day one kicked off with a keynote presentation on macroeconomics by former Prime Minister Paul Keating. This was followed by a talk by Tourism Australia's chief marketing officer Lisa Ronson who spoke about TA's upcoming Aquatic and Coastal campaign that will feature a documentary with Sir David Attenborough exploring the Great Barrier Reef, as well as the continuation of Restaurant Australia. She reported that there has been a 5 per cent increase in spend on food and wine tourism since the launch of the campaign. She also discussed the new Indigenous campaign that was unveiled last Tuesday morning.
Things got a little more business-focused for the next two sessions with talks from Christopher Brown from the Taylor Street Advisory about key trends in hotels and Tony Ryan from Ryan Law about the history of the hotel business, from Cesar Ritz right through to the modern day travelling 'tribe'. Julien Coste from TripAdvisor also gave an update on the influence of online reviews.
The lunch catering on day one included a combination of food trucks serving pulled pork sliders and fish tacos, as well as waiters walking around with trays of pho and a curry buffet.
The evening event was a poolside party with a sponsored Peroni bar, an oyster bar and roving canapés.
Day two focused on women in leadership and started with a talk by 60 Minutes journalist Ellen Fanning. This was followed by keynotes from Olympic gold medallist Alisa Camplin and Australian of the Year Rosie Batty. Michelle Lalli, a Mantra Group senior manager, led a panel discussion of all three women where they discussed everything from family violence right through to tall poppy syndrome.
Morning tea focused on super foods including chia, coconut, carrots, nuts, berries, sago and natural yoghurt. The energising foods were complemented by a bottomless Vittoria coffee bar knocking out coffees to order during the breaks.
A high point of the event was when Mantra Group marketing director Kent Davidson handed over two $10K cheques to both Camplin and Batty for their respective charities, in lieu of giving Mantra staff the regular array of incentive gifts.
Lunch was a nose-to-tail culinary affair held on the lawn focusing on pork, pickles, salads, breads and matched wines.