When it opens on 01 August 2018, RACV Cape Schanck Resort will become the first premium accommodation of its size to open on the Mornington Peninsula.
The resort's design reflects the surrounding natural landscape, embodying rugged coastlines, rolling dunes and dramatic topography. Guests will experience 180-degree panoramic ocean views, unparalleled anywhere in Victoria.
Its conference and event facilities, which have been in operation since April, are the largest of their kind on the Mornington Peninsula. The diverse spaces can cater to a range of corporate and unique events, for up to 450 guests.
Guests will be able to dine onsite at three premium food and beverage outlets, led by Executive Chef Josh Pelham. The resort's premier restaurant, Cape, creates cuisine that is stylish, contemporary and each ingredient is carefully sourced to bring together the best produce of Mornington Peninsula and regional Victoria.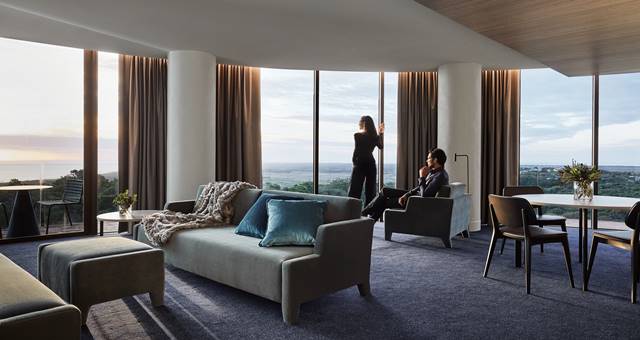 Executive General Manager of RACV's Leisure business, Craig Peachey, anticipates the RACV Cape Schanck Resort will entice more visitors to the region and the resort's positive economic impact will be enjoyed by the Peninsula for years to come.
"The resort is estimated to bring more than $11 million every year to the Mornington Peninsula, acting as a major force of economic activity for the local community by bringing more tourists into the region and creating new jobs."
"We know Victorians love to travel around our beautiful state, and our members and guests can enjoy a variety of experiences at each of our resorts. All of our properties in Victoria are well located in the different regions of the state, and all RACV members and guests can access and enjoy the very best in accommodation and resort amenities at our properties," said Mr Peachey.
Guests will also be able to enjoy onsite facilities including a 25-metre indoor pool, sauna and steam rooms and a fully-equipped gym.
The resort's One Spa, with eight different beauty and wellness treatment rooms, will be open to guests and visitors alike.
RACV Cape Schanck Resort sits on an 18-hole championship golf course designed by Trent Jones Jnr, which is accessible to all guests and visitors.